We are lucky to live in a state where warm weather constantly accompanies our fun-in-the sun lifestyle which is why we partnered with

iROCKER

this March to celebrate our good fortune and give one lucky winner a spring that feels more like summer. The winner of this amazing prize package will enjoy getting on the water and exploring waterways on an iROCKER ALL AROUND 10′ ULTRA™ Inflatable Paddle Board. Pack the beverages of your choice to share with friends in the 30L, insulated, backpack iROCKER cooler. Also included is an iROCKER Portable Battery to power your iROCKER 12V Electric Pump anywhere you go, a fishing rod holder attachment so you can drop a line wherever you paddle, a

SAFEGO

waterproof portable personal safe, a selection of

Islamorada Brewery & Distillery

iconic long sleeve dry fit shirts perfect for long days on the water, and an array of other

Islamorada

Brewery

& Distillery

apparel & merch items including an eye-catching bar sign, hats, and much more! Through the end of the month, take the time to enter to win this amazing prize package valued at over $1,000
Fresh New Look
This Spring
We are proud to announce the release of our new six-pack box designs for our most popular beers: Sandbar Sunday, Islamorada Ale, Channel Marker IPA, No Wake Zone, and Key Lime Hibiscus Ale. As a company, we strive to continuously improve and provide our customers with the best possible experience. These new designs not only showcase the unique flavor profiles of each beer but also embody the spirit and vibe of our brand. We want to take this opportunity to express our gratitude to our customers for their unwavering support over the years. It is because of you that we are able to continue brewing exceptional beer and building a stronger brand. Your loyalty and feedback have helped us to grow and evolve, and we are excited to continue this journey together. We hope that these new six-pack box designs will not only catch your eye but also make your beer-drinking experience all the more enjoyable. Thank you for choosing our beers and embracing our Island State Of Mind.
Employee Highlight
Say hello to our Warehouse Manager, Alexsa Gallardo, who has been a valuable member of our team since January 2022. According to her, her favorite aspect of the job is "delivering happiness! I mean, people love beer and  beer makes them happy and we give them beer, who wouldn't love that?!" Team dynamics, she explains, is why she loves working here so much. "I love it here because of the team, great communication, and the willingness to step up and assist others". When Alexsa is not managing the warehouse, she can be found enjoying her favorite hobbies which include going to the beach with her two daughters, Charlotte and Olivia, and watching fail videos that make her laugh. While she claims to be a 2-3 on a scale of 1-10 for humor, we disagree given her answers to the following questions: If she could do anything for a day, she would be a pro stunt driver with the "Baby Driver" soundtrack playing on a loop. If she were a superhero, her superpower would be to "eat without getting fat", and if she were stranded on a deserted island, the three items she would take with her are a lifetime supply of salami, cheese, and wine. We think that's pretty darn funny! But then she shared a joke: "what does the buffalo say to his son when he drops him off at school?…. Bison." *crickets*….So there's that. (Just kidding, it's pretty funny) In addition to her skills as a Warehouse Manager, Alexsa speaks two languages; English and Spanish. We are proud to have Alexsa as a part of our team and grateful for her contributions to Islamorada Beverages.
An Irish State Of Mind
As St. Patrick's Day approaches, what better way to celebrate than with green beer on tap at our Islamorada and Fort Pierce taprooms? Thanks to our brew team we have crafted a special beer just for this occasion. Whether you're a beer connoisseur or just looking for a fun way to celebrate, our green beer is sure to put you in the St. Paddy's Day spirit. So gather your friends and family, wear your green, and come raise a pint with us. 
Skip the winter blues and fast forward all the way to summertime with our seasonal classic Bud N Mary's. Named after the iconic marina,

Bud N Mary's,

here in Islamorada, this Blueberry Summer Ale is exactly what you need to cool you down in paradise on a hot afternoon. Made with real blueberries, this ale will keep you coming back for seconds and thirds until there's not a drop left. Stop in to pick up a case of this fan favorite today while supplies last. As always, please call ahead to confirm availability as supplies are limited.
** ONLINE ONLY. Offer not available in taprooms.
Bar Gear & Glassware 20% Off Online
Get 20% off on

bar gear

and

glassware

during the month of March! We have a wide range of products including pint glasses, growlers, hurricane glasses, and more. Shop now and take advantage of this limited-time offer. Don't miss out on this great deal, grab your favorite bar gear at a discounted price. Elevate your home bar with an Islamorada Brewery & Distillery Tap Handle and a sleek bar mat. Start shopping today and enjoy the savings! Hurry, this promotion ends on March 31st.




Use promo code: ibdhomebar at checkout
** ONLINE ONLY. Offer not available in taprooms.
Spring is here and we have live music lined up for your enjoyment every weekend at Islamorada Brewery & Distillery – FL Keys MM82! Check our calendar for dates/times and bring the entire family for an amazing night out in the FL Keys full of games and island vibes. Grab a drink from the bar and a bite from the food truck and enjoy our little slice of paradise under the palm trees. It's always summer down here in paradise so grab your people and enjoy An Island State Of Mind in the Florida Keys.
Starting the season (and every week) off right, Tuesdays feature Think and Drink Trivia at 6 pm. Test your trivia skills on an array of topics and show your friends who the smartest is!

Marvel fans can test their Marvel Universe knowledge on March 19th at 5 pm with Marvel Movie Trivia. Wrap up March by taking a trip to the Underside with Stranger Things Trivia on March 26th at 5 pm! As always, enjoy Beer Happy Hours 4-6pm & Cocktail Happy Hours from 7pm to close Monday – Thursday. On Fridays, swing by the taproom from 4-6pm for BOGO BEERS!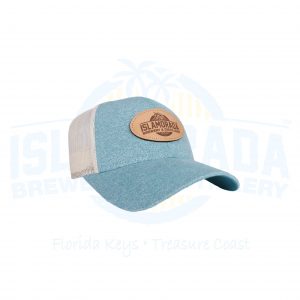 Aqua Heather Patch Hat
$26.99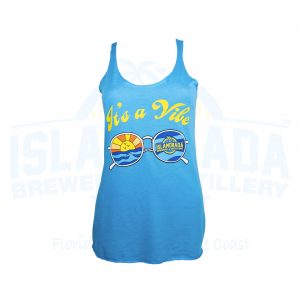 Tank Top "It's a Vibe" Blue
$24.99
Copyright © Islamorada Beer Co, Islamorada Distilling & their affiliates
Our mailing address is:
82229 Overseas Hwy, Islamorada, FL 33036
Want to change how you receive these emails?
You can
Land or Sea Navigate Responsibly